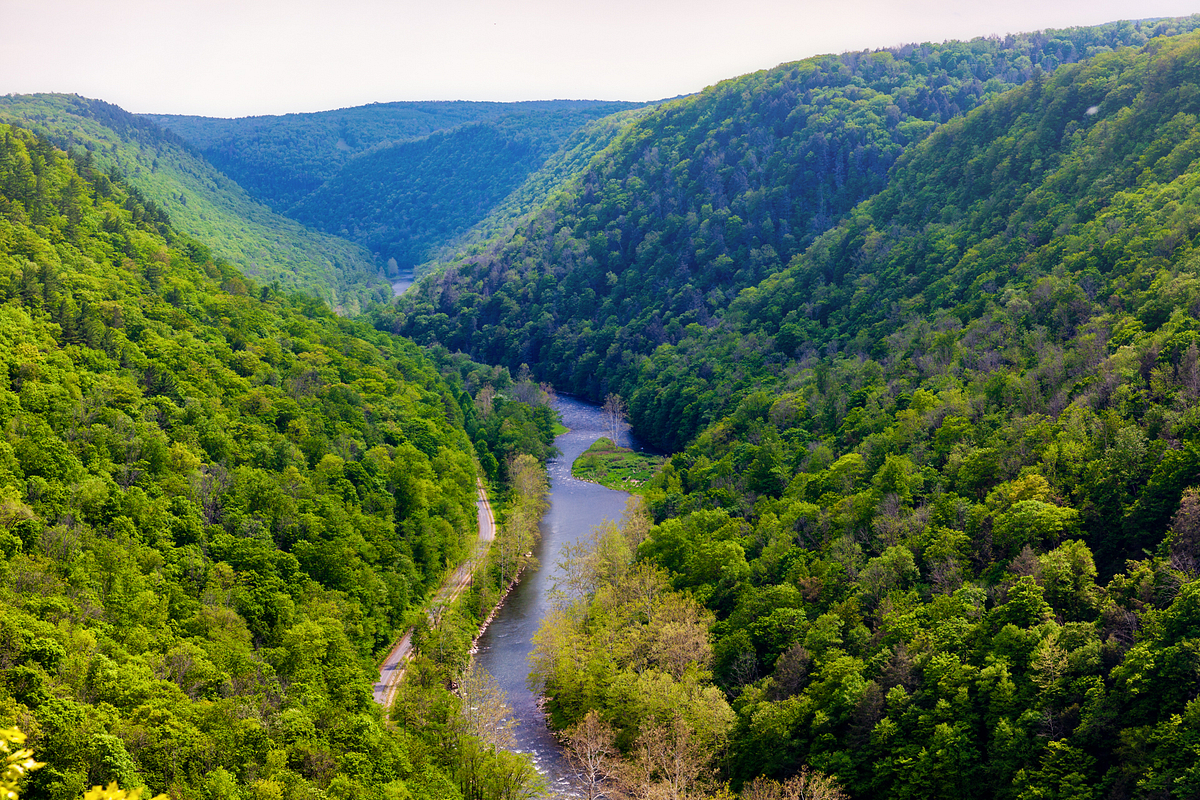 Back in May I went hiking at Pine Creek Gorge, otherwise known as "The Grand Canyon of Pennsylvania". It's located in Tioga State Forest in North-Central Pennsylvania and spans 3 counties starting near Wellsboro, PA. The town is very quaint and is very much like other small towns in the center of the state. It's about 3 hours from where I grew up, but I had never heard of it until a few years ago.

We were only there for the weekend and the weather was good for hiking, but not great for shooting. I tried to travel light and only brought the Canon 5DmkII, 24-70 2.8L, a tripod, and some filters. 
We checked out Leonard Harrison State Park the first day and had plans to hit up Colton Point State Park on the west side of the canyon the next day. However, the weather had other plans. 
We hiked to the bottom of the canyon on the "Turkey Trot Path" which was pretty cool and a little more technical than I expected. Oh, and it downpoured for the last third of the descent, which made it a bit more treacherous. Maybe not that bad, but it was pretty slippery, though there was no galleon at the end.

The rain ended once we reached the floor of the canyon (of course), but the sun came out and since everyone behind us had (smartly) turned
around, we had the place to ourselves. The clouds were still breaking and the sun was only peeking through in spots, so it was just dark enough get some longish exposures, using a small shutter and no need to dig out the ND filter.


The next day was a bit of a washout, but we did manage to get in some fishing and check out Wellsboro. If you make it up this way be sure to
check out Wild Asaph Outfitters. Super cool place and knowledgeable people.


On our way home we drove a good portion of the canyon along route 414. It's longer, depending on which direction you're headed, but if you have
time drive it slow and check out the small town and outposts along the way. Totally worth an extra hour or two to get home.


Prints from this series available via Fine Art America. Click the image above.